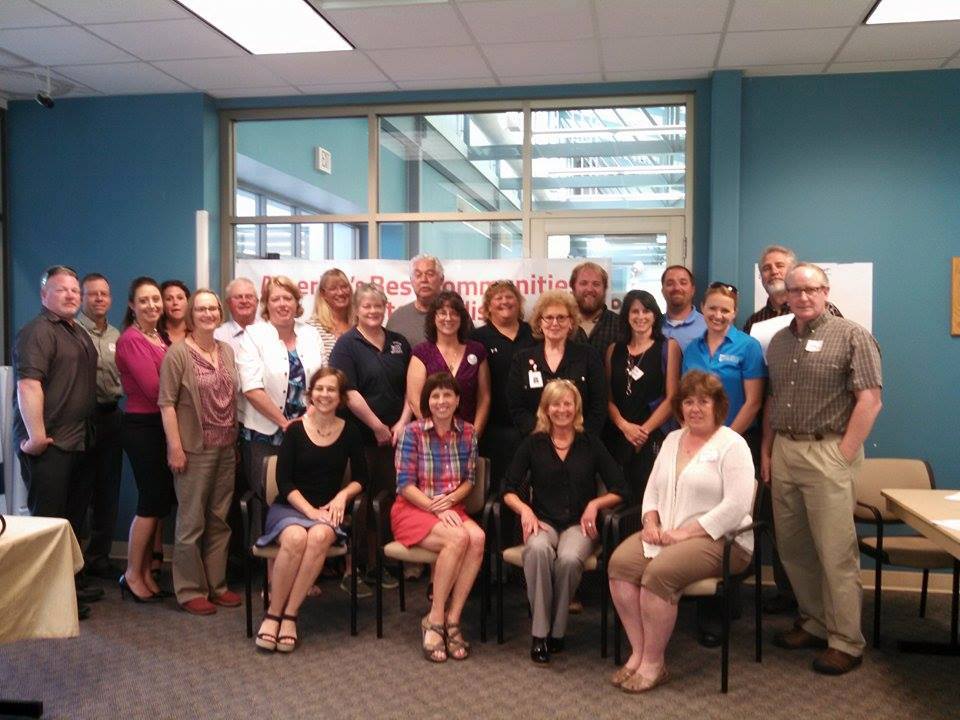 Chisago Lakes - a collaborative community just north of the Twin Cities, has been named as a semi-finalist in the America's Best Communities program sponsored by Frontier Communications, Dish Network, the Weather Channel and Co-Bank.  The community now has a one-in-five chance to win a prize work $1 million dollars or more.  The effort has been led by the Chisago Lakes Chamber of Commerce and the Chisago Lakes Area Community Foundation.  They have created work teams and plans in Energy, Technology, Trails, Tourism/Arts/Culture and Health.  With amazing leadership and community commitment, this group has created a sense of inter-community collaboration that has been the dream of area community leaders for decades. The rewards to the community were immediate and are ongoing with or without the prize money.
Community Technology Advisors, assisted by Treacy Information Services,  facilitated the community planning and promoted the effort through social media.  It has been an exciting and fulfilling project to see community members work so hard and so collaboratively.  Good luck  to the Chisago Lakes team as they pursue their plans and design their presentation that will move them into the finalist category in April!
As originally posted on the Blandin on Broadband blog…
Stirring the Pot

Words count!  I heard that message again and again at the Border to Border Broadband Conference.  What do providers want to hear to entice their interest in partnerships?  What do county commissioners need to hear to spur their commitment of funds?  And what do the digitally excluded and non-adopters need to hear to get them to attend training and learn new skills?   Messaging is both hard work and time consuming.

Equal to the task of finding the right message is identifying the most effective messenger and determining the best timing for your message delivery.  Our BBCs learned some specific messaging strategies at the end of the conference as Blandin staff Alie Mcinerney led them through a "Planning to Win" campaign planning session.   Ali is a great instructor, but we learned that not even the Best of our BBCs could take in any more information by Friday afternoon!  People need to be ready to receive a message for it to sink in.  It's a good thing that you can find the campaign planning tools at www.planningtowin.org.

One very positive trend for broadband messaging is the growing list of successful broadband partnerships.  These provide clear examples and provide quick confidence of the path to success.  You can shape your message by using quality examples.  You can find convincing messengers by asking project leaders to share their stories.  You cannot communicate too much or too often and you need to realize the long-term approach required for success.

If you are interested in "planning to win" your local broadband campaign, let us know.  We will be working with local teams to help them move their conversation forward.
As originally posted in the Blandin Foundation eNews…
The Connect America Fund 2 (CAF2) is a significant federal commitment to broadband in rural Minnesota. CenturyLink, Frontier and Windstream have all agreed to accept CAF2 funds totaling almost $500 million dollars over six years. This amount is more than half of what the state broadband taskforce estimated as the minimum cost to meet the current state broadband goal and 20 percent of the way to 100% fiber to the home status. So the CAF2 funding is a big deal with great potential.

The broadband blogosphere is now abuzz with opinions as to whether CAF2 is a positive development. The Blandin on Broadband blog has the FCC CAF2 press releases. Doug Dawson of CCG Consulting has an intriguing post on his blog. I won't rehash Doug's column here except to note that his main question is "How well served will consumers feel in five years with networks that have been designed to deliver to the FCC CAF2 standard of 10 Mb down and 1 Mb up?, especially since the FCC has already moved to a broadband standard of 25 Mb/3 Mb?" The CAF2 standard does not meet Minnesota's broadband goal, set in the Pawlenty administration of 10 to 20 Mb down and 5 – 10 Mb up. Our state goal is now in line for reconsideration.

These state and federal broadband goals have long been surpassed, by a factor of 10 or more, in our metro areas, within most rural community city limits, and in the rural countryside served by broadband cooperatives. Within communities, these service improvements have been driven primarily by competition; in the well-served rural countryside, these services are enabled through smart, consistent support mechanisms available to small providers. Through CAF2, investment will be stimulated by the larger carriers. Unfortunately, if these networks are only improved to deliver 10 Mb/1 Mb, many would say that it hardly seems worthwhile.

There is an opportunity for our Minnesota leadership – from the Office of Broadband Development to the Governor's Office, with legislative leaders and industry. Together, they should find a way to steer this CAF2-funded network deployment to meet a new, world-class Minnesota broadband standard. By combining CAF2, provider capital, significant Border to Border Broadband funds (general fund or bonding), USDA broadband funds, Universal Service Funds and other sources, we would set Minnesota far ahead globally. The federal broadband plan calls for 100 Mb services; let's aim for that as a minimum. That network would enable citizens access to any school, any hospital, any government service and unlimited job and entrepreneurial opportunities. Minnesota's innovation culture would be unleashed. Picture a Time Magazine cover with a group photo of Minnesotans holding up fiber optic cable and devices like northerns on a stringer. Another Minnesota Miracle!
As originally posted in Blandin eNews…
The new broadband maps published by the DEED Office of Broadband Development are like a step back in time.  More of Minnesota is considered "unserved" now than previously, breaking a trend that consistently had more Minnesotans covered by adequate broadband over time.  Providers certainly did not shut down services, so what happened?

The FCC defines broadband as 25 MBPS download and 3 MBPS upload, way up from the previous 4/1 standard.  Years ago, the original MN broadband task force set a standard of 10/5.  At the time, that standard was considered reasonable, but challenging.  It is interesting that the FCC standard is 2.5 times the state standard for download, but the state upload standard is almost double the FCC upload standard.

The state broadband task force will be reviewing the state standard this year.  Should the adopt the FCC standard?  Is a step back from the download speed the right direction?  What would be the impact of a 25/10 standard?  What are the cost implications for providers to reach the standard?

Finally, what is going to happen with the CAF2 funding?  Providers will be required to meet a 10/1 standard with those funds.  I hope that someone at the FCC sees the inconsistency of providing funding that does not meet their own broadband standard.

Standards and policies matter!  Let the decision makers and task force members know  how you feel about these standards.
As originally posted in the Blandin on Broadband eNews…
Uncertainty seems to describe the current broadband environment in Minnesota and beyond.  This uncertainty makes it hard for local community broadband initiatives to plan a path forward causing delay and frustration.

Here in Minnesota, we are all awaiting the final passage of the Office of Broadband appropriations for the Border to Border Broadband Program.  When the legislative session started, I was among many who thought that upwards of $100 million would be appropriated for the grant fund to follow up on the original $20 million granted earlier this year.  The $10 million in the appropriation vetoed by the Governor is clearly inadequate to meet the demand of the projects in the pipeline.

At the federal level, we are all waiting for the pending announcements from Frontier, Centurylink and Windstream as to their intentions with CAF2 or Connect America Fund version two.  These larger companies need to declare whether they will take these incentives to improve their networks.  If they reject the subsidies, the FCC will conduct a reverse auction to determine how the subsidies will be allocated possibly opening the funds to a range of prospective competitors.

My advice for communities is to encourage them to keep moving forward with your planning and solutions development. Be prepared for emerging opportunities!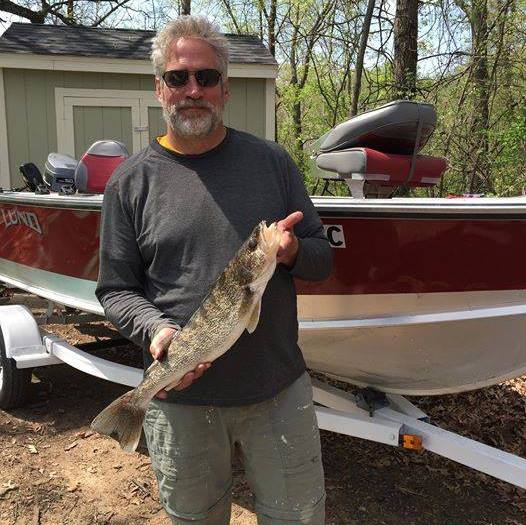 As originally posted in Blandin Foundation Broadband eNews…
After a couple years without a fishing boat, I knew that I needed to get back out onto the water.  Like many broadband-deficient communities, I realized that life without a boat is a life incomplete.  I had tried fishing from a kayak and from shore, but it is just not the same experience.

Like broadband, there is virtually unlimited online information about boats.  Boat manufacturer, length, tiller or console, brand and size of motor, new or used, and even color – all critical choices.  Like broadband, sometimes the abundance of information only confuses.  You need to judge the expertise of vendors, sort through the criteria that you value and understand the impact of this value system on your choices.  And once you make your decision, you will need to defend it from critics, whom you may find are occasionally correct, thus requiring adjustments.

Finally, one decision only leads to more decisions.  With a boat, this includes trolling motors, electronics and fishing partners.   With broadband, technology, financing and business partners are critical choices.  In either case, selecting great partners makes future decisions easier.

Whether you are buying a boat or pursuing broadband network deployment, you will need convincing arguments to justify the investment.  For me, fishing has many benefits beyond the obvious tasty meal – beautiful scenery, bald eagles and daydreaming. Based on my usual fishing success, these joys might be the most important benefits that I receive.  As you personalize your broadband pitch, remember to include your own stories of broadband-created value remembering that not every thing that counts can be counted.

Finally, remember that implementation is critical and plans are only good until the action starts.   Without question, there will be problems.  With technology issues, I ask people if their device is plugged in.  With fishing boats, my similarly simple advice is to ask if their drain plug is in! You can see that I enjoyed my border waters opener on the St. Croix River with my "new" used boat and a nice 23-inch walleye.
Last fall, Frontier Communications and Dish Network developed a $10 million partnership set on driving growth and revitalization in rural towns and cities within the telco's 27-state territory – including Minnesota. It's called the Americas Best Communities.
It's fun to see that Chisago Lake Area made the cut! Bill Coleman worked with Chisago. In fact we are pleased to send the announcement they recently sent to us about Bill and their progress toward the big win!
Thank you for the opportunity Blandin provided through Bill Coleman's consulting time.  Today Frontier Communications announced the Chisago Lakes Area is 1 of 50 recipients of the America's Best Community (ABC) award.  It is a $35,000 grant.  Through the process, we also have a Corporate sponsor now that will provide the $15,000 grant match as well as technical assistance and expertise.  It is a very exciting opportunity for the Chisago Lakes Area.  The funds are used to prepare extensive plans to go on to be 1 of 8 for the $100,000 grant. The winners then go on to take 1st , 2nd , or 3rd place for a $3, $2, or $1 million grant respectively.  We are so excited and see many opportunities to leverage between the BBC and the ABC.  We really appreciate Bill's help and I am confident his work on leading us through the grant application is why we received the grant.  Thank you again for providing this opportunity.

Nancy Hoffman, Executive Director
Chisago County HRA-EDA
A Natural Resource for Business

As originally posted in Blandin on Broadband blog…
I am faced with two contradictory observations about broadband right now.  First, the intensity of desire for and the impatience for improvement of broadband has never been higher if our Blandin Broadband Communities are representative of rural Minnesota.

Infrastructure and service discussions are dominating our recently completed vision and project development meetings.  Over the years, I have told countless communities that the lack of high-speed broadband was going to be a significant detriment to their community's economic competitiveness and quality of life.  That day is here.

Community leaders now tell me how the lack of quality broadband is having negative effects on business recruitment efforts and business retention programs.  School superintendents talk of the haves and have-nots of connected students and that impact on homework and curriculum.  Throughout the community, negative impacts are felt. Interest in Blandin Foundation's Robust Network Feasibility Fund is stronger than ever with many communities gearing up to examine market, costs, business models and finance in preparation for an expected round two of DEED broadband grants.

That contrasts with my observation that broadband is not the hot topic at the Capitol that it was last session.  Last year, it seemed that the Senator Schmit tour, the task force recommendation for $100 million combined with the excitement for the creation of the Office of Broadband that the broadband topic was near the top of everyone's priority list. That enthusiasm now seems to be a bit on auto-pilot. Although I am not actively engaged in the nitty-gritty of the legislative session, I do know that the rewards go to those who show up and make their voices heard.  With many new legislators, broadband backers must reach out and make sure that your own legislators know what a priority broadband is for your community.

My advice – Do not just expect that DEED's broadband grant fund will be renewed or increased to higher levels of spending. Broadband is competing with more traditional uses of state dollars with very organized constituencies – roads and bridges, human services, bike paths, k12 and higher education – the list is long and the interest groups well practiced in the legislative arts.  Turn your lone voice into a strong and clear community broadband voice.
As originally posted in the Blandin on Broadband blog…
Since the New Year, Community Technology Advisors has been working with the ten new Blandin Broadband Communities. We are helping them move from Steering Team formation to Vision creation and the resulting project development.   Participation has been fantastic with strong cross-sector attendance and leadership. Mayors, school superintendents, librarians, community education, chambers of commerce, citizen activists have brought their enthusiasm to the table. There is no shortage of project ideas. While some groan at the idea of a three-hour meeting, we have found the "after-meeting meetings" to be robust. We have already seen promise of problem solving, new resources and collaboration.

This is our third round of MIRC/BBC communities. More than ever, the gap between those who are connected at speeds that meet the state broadband goal or higher and those who lack anything but slow DSL (1 – 3 Mb), cellular or satellite is growing larger – in both absolute bandwidth speeds and in perception of capability. The un-connected struggle to do homework, work from home and all of the other common practice applications that the connected think are so easy. As most of our "communities" are counties or even larger, large areas of rural countryside fit into the unserved and underserved broadband category.   Local leaders are fierce in their determination to solve this puzzle, but are challenged to see the path forward. The recent DEED grant awards are encouraging, but sobering. The path towards a positive partnership and affordable finance alternative seems steep and rocky.

One of the strengths of the Blandin Broadband Communities program is that it provides a platform for communities to build knowledge and momentum on the infrastructure challenge while still driving adoption and use as the program's main goal. This dual path requires strong understanding within community leadership that infrastructure initiatives may take considerable time to come to fruition. In the meantime, they need to continue to build on their existing infrastructure, institutional and people assets to improve their tech vitality. These ten communities have started down this path. It is our privilege to guide them as they make connections, learn new things, set priorities, create teams and make good things happen in the places that they call home.
As originally posted in the Blandin on Broadband blog…
So much going on with broadband these days. It is hard to keep up!

Ten new Blandin Broadband Communities have jumped in with enthusiasm and commitment over the past month of activities. Our kick-off meeting in Willmar opened the eyes of their coordinators and teams to the results that their community efforts might yield over the next two years in better broadband access and use. Several communities brought multiple steering team members and I think that this served as a multiplier effect on their thinking. With seven of ten initial steering team meetings held last week and three more upcoming, communities better understand that broadband is only the infrastructure that a more vital community will utilize rather than the end itself. Up next are our Community Vision Meetings. We are also lining up meetings in thirteen BBC Alumni communities to help them maintain their community broadband efforts.

As I write this, it is exciting to see the grant announcements for the DEED Office of Broadband Border to Border Grants. It is especially fun to see funding provided to communities that I have worked with over the years. Congratulations to all of those funded!

Finally, the policy discussion is fast and furious. The new MN Governor's Broadband Task Force report, the call for new members of the task force, the new FCC definition of broadband of 25/3 Mbps, President Obama talking community broadband and net neutrality.   A key task of community broadband leaders is to become informed and pass on your thoughtful opinions to local, state and federal elected officials.