As originally posted in Blandin on Broadband…
Those readers that know me know that I can go on about broadband for a long time.  I can talk about broadband demand, technologies, economic impact, private-public partnerships and just about any other broadband topic.  So, I am facing a considerable challenge when I consider how to best use my allotted three minutes before a legislative committee this week. http://wp.me/p3if7-3U9
My key points will be:
1)      The pain felt by unserved rural Minnesotans is real.  From lower property values to increased costs of high priced satellite and cellular services or too frequent trips into town to get online, the lack of broadband hurts students, small business owners, farmers and all who live in the countryside.  For a
better understanding of how important broadband is to rural Minnesotans, I suggest that you read some of the posts on some of our broadband providers' Facebook pages.  You will share the excitement of those just hooked up to real broadband services and feel the pain of those left behind with little or no broadband or unreliable broadband.
2)      Please know that rural elected officials are hungry for real and effective public private partnerships.  While every project is different, creating legal and smart pathways to public-private partnerships that minimize legal expense and maximize broadband investment would be of high value and low cost.  Every community or county should not have to create their own unique way to partner and finance projects, often by bending existing tools to fit broadband investment.  In addition, broadband providers willing to engage in real partnerships should be rewarded for their commitment to rural Minnesota.  A real partnership means that providers have some skin in the game.
3)      We cannot solve rural Minnesota's broadband problems one township at a time.  We need countywide and multi-county projects that address large geographic areas and that do not leave pockets of people behind.  These larger projects will probably require
multi-year funding commitments and, in some cases, more than 50% public funding.
4)      We need broadband infrastructure that will support rural Minnesotans for a generation.  We should not fund marginally upgraded networks that will require additional upgrades to meet the 2026 state goal of 100 Mb/20 Mb.  Remember, the future business case to upgrade these networks will be no better than the current business case that requires subsidy.  Dig once and do it right.
5)      Finally, going beyond "served and unserved", communities need providers that are responsive to existing and prospective economic development opportunities and community needs; communities need real broadband partners.  Current and prospective businesses, health care providers and schools need providers ready to make the necessary investments and provide the services that allow these organizations to survive and thrive.
As originally posted on Blandin on Broadband…
5G Wireless as Rural Solution: Not any time soon.
(Download as White Paper)
5G Wireless as Rural Solution: Not any time soon.
Minnesota legislators are now hearing that a market-based broadband solution is near. 5G wireless to the rescue!  Learning that public dollars would not be necessary for rural broadband development would be soothing music to elected officials' ears as other groups line up for funds– roads, schools, health care, tax cuts; the list is endless.
After all, many counties and regional entities are growing desperate for broadband and are actively studying the options for spurring broadband delivery to meet at least minimum FCC broadband standards.  Alternatives range from subsidizing incumbents to partnering with new or existing broadband cooperatives.  While the State of Minnesota is seen as the major finance partner, even townships are writing checks for broadband!
So the question "Is 5G coming to rural America anytime soon?" is critical for policy leaders and elected officials.  They wonder, "If we wait, will our future pass us by?" Conversely, they question "Will our investment in fiber be a waste of money as wireless becomes the preferred and available technology?"
After doing a lot of reading and talking with technologists, it is clear that 5G wireless is coming to the marketplace, but it is not coming to rural America anytime soon.  5G wireless does offer promise, but only to high density population centers such as  campuses, large office buildings and apartment buildings.  5G's chief feature is very high bandwidth– 1 Gigabit or more!  Once established, 5G promises to have the ability to connect many devices with very quick responses, especially applicable for self-driving vehicles or many smart devices in a factory, on urban streets and so on.  5G would also be great for large file sharing applications like HD movies.
So why not 5G in rural areas?  That answer is easy and indisputable.  Deployment of 5G wireless services will require significant fiber deployment, more than either the current 4G wireless cellular network or the new CAF2 Fiber to the Node (FTTN) installations by large incumbent providers.
Rural 5G wireless services would require installing radios every 1,000 – 3,000 feet on towers and poles.  These small cells would require direct fiber connections and all of them would require electricity to power the radios.  The radios would connect to wireless devices in customers' homes and to other devices on the network and, of course, back to the network backbone.
For comparison, today's fiber-fed 4G towers might be four to fifteen miles apart depending on terrain and the number of customers.  We know that 4G services have yet to reach many rural customers at their homes since these services are often focused down state and federal highway corridors in tandem with existing fiber routes leaving those in the bulk of the rural countryside without modern service.
In today's CAF2 environment, providers are making significant investments to deploy FTTN, shortening copper loops to approximately 7,500 feet.  These shorter loop lengths will allow some customers to exceed the 25 Mb download and 3Mb upload FCC broadband standard while others at the end of the line will more likely receive 10 Mb/1 Mb. While this may be a significant improvement from current services, it lags far below the Minnesota broadband goal of 100 Mb/20 Mb by 2026.  Optimists view these CAF2 improvements as an interim step to future FTTH deployment; others view these improvements as the last incumbent investment for a generation.
There are many questions yet unanswered on 5G wireless technical standards and final standards may be years in the making. There are just as many questions on the different business models that will drive deployment in urban, suburban and rural markets.  These deployment strategies will likely vary by location and provider mix.
For example, ATT and Verizon are dominant wireless carriers seeking to use more wireless in their old wired local exchange areas.  They could relatively easily transition their landline customer base to the new 5G networks adding to their existing wireless customer base.  In Minnesota, these wireless companies use a combination of their own networks and leased facilities from a variety of providers to reach large customers, but primarily to reach cell towers.
In Minnesota, incumbent providers CenturyLink and Frontier are just one year into a five-year process to deploy their CAF2 FTTN networks.  Once completed in 2020-21, likely to coincide with 5G technology and devices entry into the marketplace, will they be willing to open these deep fiber networks to competitive 5G wireless providers?  Or will they offer their own 5G wireless services on enhanced CAF2 networks?  Or, will these companies decline to sell access to their networks to wireless providers to preserve their own customer base.  In that scenario one has to wonder if there would ever be a business case for wireless carriers like ATT and Verizon to install duplicate fiber networks to reach rural customers?
So 5G is coming, definitely and soon, but only to metro areas, just as new technologies always seem to hit metro markets first.  But will and when will 5G reach rural?  For those rural residents and businesses still waiting for 4G wireless services, the answer is clearly not any time soon.  Fiber networks, to the home or to the node with very short loop lengths, will be a requirement to support future 5G wireless services.  First fiber, then 5G.  Not the other way around.
My advice: keep pursuing local fiber deployment so that all innovative broadband services – wired and wireless – can be offered in your community.
Steven Senne of Finley Engineering reviewed this article for technical accuracy.
Mike McIntee of AM950 spoke to Bill Coleman (speaking on behalf of the Minnesota Broadband Coalition) about broadband in Minnesota yesterday. (The broadband discussion starts at minute 31:35.)
Bill draws from his experience working with communities across the state as well as recent research on broadband in Minnesota.
They talk about the impact of not having broadband. For example, people won't  move to areas without broadband. Entrepreneurs can't run their businesses. Students can't do their homework. Bill used to spend time working with communities to help them understand the value broadband – now they start the meetings tell him how much they need it!
In towns and cities people have broadband that at least meets FCC definition of broadband but get a few miles – or sometimes even just blocks – away from the town do not have access. They are stuck with slower, more expensive satellite or using personal hotspots for home connectivity, which gets expensive with their data caps. In fact, 30 percent of rural Minnesotans can't get access to real broadband.
Mike asks if there's a way to "make" providers serve everyone. However, broadband is generally an unregulated industry. There's a move at the FCC to start regulation with universal coverage. But Chairman Wheeler is retiring January, leaving the next Chairman to be appointed by the Trump Administration.
As originally posted on the Blandin on Broadband blog…
Lincoln, Murray and Pipestone Counties are three rural counties that have decided to work together on better broadband.  The counties share a similar mix of small communities and big farms on the southwestern Minnesota prairie.  They also see a growing number of neighboring counties getting fiber to their homes and farms, including Lac qui Parle, Swift, Big Stone and Rock Counties.
The leadership of these counties, staff and elected leaders alike, are worried that current broadband is hindering economic growth and detracting from their ability to attract manufacturing firms, other businesses and, most importantly, people due to the lack of broadband services.  More than 60 people attended one or more of three meetings held in Ivanhoe, Pipestone and Slayton, including a variety of broadband providers.
Attendees learned about the financial and technical challenges of providing high speed broadband in areas with such low population densities.  Those who live behind trees or in low valleys talked about their discussions with providers and challenges of even receiving wireless services.  They learned about the promise of the Connect America Fund 2 and when improvements might be coming.  In the future days, leadership teams from the three counties will meet to discuss the meetings, the input from residents and businesses and next steps.  Each county had 15 or more volunteers ready to team with county staff and elected officials on prospective solutions, including investing their own dollars to make expanded broadband possible.
I was pleased to help start the conversation on broadband last week at Association of Townships annual conference in St Cloud.
Blandin Foundation community partners Fond du Lac Band of Lake Superior Chippewa, Chisago County and Cloquet Valley Internet Initiative were all featured as was the USDA and Paul Bunyan Telephone Cooperative.  It was great to hear of the winning solutions that will result in Fiber to the Home networks at Fond du Lac and north central Minnesota.
The value of partial solutions was also highlighted recognizing that more work and some luck will be required to reach a full solution.  The Minnesota Association of Townships has been a strong partner in an alliance of rural stakeholder groups, all of which recognize the foundational necessity of rural broadband services.
As originally posted on the Blandin on Broadband blog…
More thoughts on partnering…

Based on the number of prospective Border to Border grants that I have been hearing about,  I was thinking about how competitive this grant round will be.  This is a new world for both providers and communities.  At a recent Blandin Foundation Broadband Strategy Board, one member was smart to remind us "These are not partnerships, they are business transactions."  It would be smart to remember some economic development basics as communities negotiate these deals with providers.  As in most site selection competitions, there are many more communities than expanding provider companies.  This smaller set has the advantage as they negotiate with multiple communities and know what each community is offering as incentives.  Communities, possibly under non-disclosure agreements, will be tempted to sweeten the pot to become a selected community partner of that limited set of providers.  With such a new program, the parameters of a good deal are more uncertain than more standard manufacturing or housing development deals.

Many communities will be talking prospective partnerships with CAF2 providers.  In some ways, this will require a more sophisticated approach than dealing with a competitive provider building a new Fiber to the Home network.  In the latter case, there is likely a feasibility study done by a third-party consulting firm on behalf of and paid for by the community.  That consultant generally has a legal and professional obligation to represent the best interests of the community.  Prospective costs, revenues, take-rates and pro forma financial statements can be used to determine the financing gap and reasonable local partner share. In addition, the new network will already be able to provide services well in excess of the 2026 state broadband standard of 100 x 20 Mbps and probably up to a Gigabit of service on Day One so future risk is minimized.  That network is a permanent community asset.

Striking a deal with a CAF2 provider on an improved fiber-copper hybrid network will be more complicated both financially and strategically.  Obtaining financial information from these larger providers may be more difficult and communities will be relying on the prospective partner rather than a third party under contract to the community. In addition, with the larger company, the financial accounting is likely to be complex.  Most challenging will be understanding the net result of the network investment.  With fiber-copper hybrid networks, delivered speeds will be inconsistent depending on loop lengths and condition of existing copper lines  both outside and inside the customer homes.  While DEED OBD requires that networks be scalable to deliver 100 Mb x 100 Mb services, significant additional future investment may be required to obtain that network capacity, and unless contractually agreed to, the company is under no obligation to make those future investments.  And the same difficult rural countryside business investment case will be present that exists today.

In the economic development world, clawback provisions are often included in incentive packages.  If a company fails to meet the goals set in the contract agreement, it must pay back all or some of the paid incentive.  Communities should consider inserting clawbacks into their agreements with provider partners.  For example, the state's 2026 goal for broadband is 100 x 20 Mbps to all households in Minnesota.  Committing to reach that goal by 2022 or 2026 would be a minimum standard to include in any agreement with a provider partner.  Clearly, with gigabit services being increasingly common today, setting a standard of one-tenth of that to be met in ten years seems almost inadequate. More aggressive agreements could be negotiated, including the idea that any local funds would only be committed if all affected residents would have access to the 2026 goal with this project is completed in 2017-18.   If the community can not reach an agreement to get the network they need to compete for residents and businesses, it may be best to wait for the next grant round and to seek a different partner.
Bill Coleman's letter to the editor in the Brainerd Dispatch…
As a rural broadband advocate and consultant, I read Rep. Kresha's June 2 letter with interest.
I agree that he is one of the House GOP's leading voices on broadband, but that voice is weak and out of tune with the needs of greater Minnesota.

He is right on his closing statement, "If we want students, small businesses, and local governments to keep pace with the rest of the state, we need this investment to provide high-speed internet access." Kresha omits that many parts of rural Minnesota do have world-class broadband provided by cooperatives, local governments and public-private partnerships. And the real-world definition of high-speed is now 100 Mb (our 2026 state goal), not 25 or 10 Mb. No or poor broadband means being left behind.

Kresha is also correct that $35 million dollars was close to what the House proposed, but omits that this is far below what the Senate approved ($85 million) and the governor requested ($100 million). Curiously, metro area DFLers were the strongest proponents of rural broadband in the House.

The House also won new "challenge" procedures that protect the very incumbent providers that have failed to deliver rural broadband. These providers can now claim, after seeing all of the grant applications, "plans" to deliver slow broadband. This new challenge process might disqualify competitive providers' grant applications even if they were deploying 100 percent fiber optic, future-proof networks. The uncertainty of the challenge process will inhibit the number of quality applications.

With a $900 million state surplus, $100 million in broadband funding would have been historic. A shared commitment to long-term broadband funding by state leadership would have been historic—$35 million is merely a small step forward towards a well-connected Minnesota.

Bill Coleman
Community Technology Advisors Corp.
Mahtomedi
As originally posted on the Blandin on Broadband blog…
With the $35 million of broadband funding now signed into law, both communities and telecom providers are beginning the process of project development. Some have projects lined up, engineering completed, business cases prepared and partnerships in place. Others are just getting started in their project planning. I suspect that the Office of Broadband Development will have plenty of projects from which to choose. Deciding how to choose in advance of releasing program guidelines and application forms may be the OBD's toughest job!
Here are some questions with which they might be grappling…
Should OBD funds be used to solve rural Minnesota's broadband shortcomings for generations or should shorter term "something is better than nothing" projects be considered?

Should projects like the previously funded Alliance Communications – Rock County partnership that provide a ubiquitous, long – term broadband solution using OBD, county and provider funds, provide the standard project framework funded by DEED?
When is it appropriate to fund incremental projects that only edge out and make the hardest to serve areas even more difficult

What does "scalable to 100 Mb" really mean?

Is a CAF2 fiber to the node deployment with 8,000 foot local loops that defers the majority of FTTH deployment expense into an uncertain future, really "scalable?"
Should OBD require a claw-back enabled commitment from all grantees to actually deliver to the 100 Mb standard by 2026

What are the essential elements of a public – private partnership?

Does a simple support letter from a unit of government count as a partnership?
Is a project funded almost exclusively with a combination of federal CAF2, OBD grants and local government funds a partnership or a government giveaway?
What is the minimum percentage of equity or borrowing that should be required of private sector providers?
As the percentage of government funds increases in a project, what other benefits should the public sector receive

With the limited funds for projects in underserved rural communities, where should the focus be?

Facilitate and showcase a limited number of FTTH communities?
Fund targeted investment in open-access networks that serve anchor institutions, downtowns and business parks?
These are not easy questions. For my part, I would advocate that limited state dollars should be used to fund long-term solutions in projects that provide ubiquitous coverage using a fair balance of public and private funds. In underserved cities, the funded projects should create strong platform for economic development, innovation and an expanded network backbone.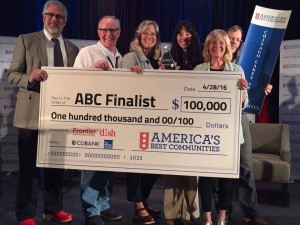 Bill Coleman is celebrating with his clients – the Chisago Lakes team in the America's Best Communities competition. Bill has been facilitating the community participation and process over the past year in partnership with a great community leadership team. Chisago Lakes is now one of eight finalists competing for $6 million dollars in prize money to be awarded one year from now. Chisago Lakes plans include broadband and technology, energy as economic development, future workforce, branding and marketing, trails and healthy community components. Contact Bill to learn more.
See more at the Blandin on Broadband blog.